Finest Paint Protection Film San Rafael CA
The Top Paint Protection Film in San Rafael CA Installation
Installing long-lasting, thin and top-quality paint protection film is what we do best at Ceramic Pro San Rafael. After buying a new ride, you hope to maintain its clean finish for a long time. Unfortunately, the glow is often short-lived because of uncontrollable environmental factors.
Not to worry, however, we offer various detailing procedures to keep your car looking as good as new. Our PPF safeguards your vehicle against harsh environmental elements while making your paint pop. The installation process is meticulous. Our experts precut PPF for specific parts, preventing scratches during fitting. We then use advanced software to secure it to the car and remove on-vehicle cutting.
You can cover the whole vehicle with PPF or apply it on hoods or bumpers that are more vulnerable to pitting and stone chips. Whatever the case, we offer different customization packages depending on your budget and preferences. 
Though the sun feels good on your skin during the summer, the heat gets uncomfortable after some time. Think of paint protection film as sunscreen for cars. Our paint protection film San Rafael CA emphasizes your paint's vibrancy without causing discoloration thanks to its UV stabilizers. It protects your car from the insect swarms hitting the front bumper. The acidic bug splatter can eat into your paint to leave pockmarks.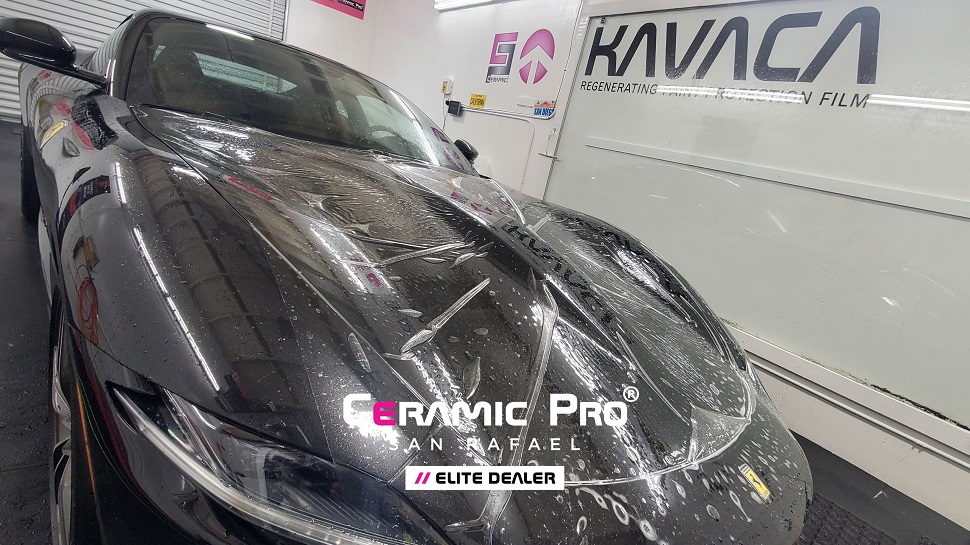 Ceramic Pro Kavaca Paint Protection Film
Our highly advanced KAVACA® Paint Protection Film is designed and developed by internationally renowned Ceramic Pro manufacturers NanoShine LTD. KAVACA PPF is a high performance aliphatic polyurethane film. It is specifically designed to protect painted surfaces and other materials from abrasion, corrosion, chemicals, and other types of physical damage.
Within the KAVACA line of paint protective films, are multiple customized solutions – including KAVACA Instant Healing Paint Protection Film, KAVACA Matte PPF, and ceramic coated PPF.
WHAT MAKES KAVACA PPF BETTER?
KAVACA Paint Protection Film utilizes Ceramic Pro nanoceramic technology during production, improving the overall visual appearance of any surface it is applied. It likewise helps to seal minor imperfections on the paint surface, without the orange peel effect common with many automotive protective films.
The combination of advanced nanotechnology, the use of superior materials, and stringent quality control standards produces the highest-quality, longest lasting, and strongest adhesion of any paint protection film made today.
With impressive visual appearance, our protective paint film acts as a self-healing protective layer preventing the paint, headlights, carbon fiber, vinyl wraps, and other substrates from being damaged by minor scratches and scuffs. The self-healing is also instantaneous. Gone are the days of needing a heavy dose of sunlight or a heat gun to have the self-healing take effect. 
You can also visit our Ceramic Coating San Rafael CA and Window Tinting San Rafael CA page for more service details.
Why Vehicle Owners Love KAVACA
Automotive Paint Protection Film
Helps to protect the vehicle's paint and other materials from road debris – with extreme gloss or a rich matte finish.
Can be applied as a front bumper package, clear bra, full front, or entire vehicle clear paint protection film.
Up to a 12 Year Limited Warranty – Highest Among Protective Film
Superior Scratch Resistance for the Painted Surface, the hood, fender, side view mirrors, headlights, and more.
Exceptional clarity. Bonds directly to the clear coat of factory paint and helps to reduce swirl marks better than other paint protection films.
Excellent protection on automotive paint against bug splatter, stone chips, stain resistance, salt, road grime, and ice or snow.
For added protection, KAVACA Paint Protection Film can be topped with a custom formulated Ceramic Pro 9H Vinyl and PPF nano ceramic coating. The combination of two of the most advanced surface protection products results in an impressive cosmetic effect, improved overall protection of the surface and the ultimate shield of protection. You owe it to yourself and your car to choose KAVACA Paint Protection Film. Ask for it by name.
Contact us today!
For Top-Quality Paint Protection Service
Not every PPF is long-lasting. Unlike others, we offer quality paint protection film to protect your car from scratches and harsh elements. Our PPF professional installation saves you time and reduces imperfections. Whether you bought a new car or repainted your old one, book an appointment with us to elevate the car's look.
Get In Touch Now!